Sundays, April 16 (Easter Sunday) and May 14 (Mother's Day)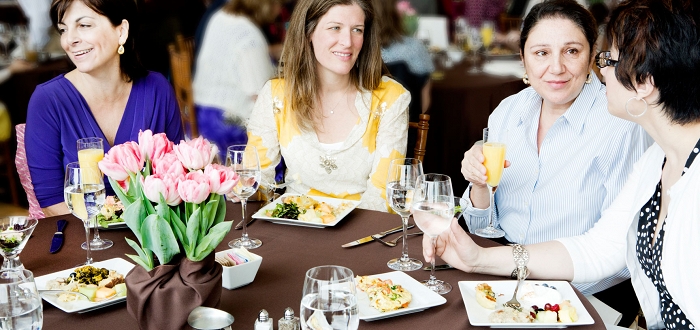 One of Pittsburgh's best-kept foodie secrets is back to wow you with local, sustainable and seasonal flavors.
On two very special days, join us to discover some of the freshest local, sustainable and seasonal flavors in the 'Burgh, expertly prepared by chefs at Café Phipps — our award-winning 3-star Green Restaurant Certified® eatery focusing on food that's good for the planet and for you. Conservatory admission is included in the price!
Our family-friendly brunch is served in Special Events Hall against the breathtaking backdrop of Tropical Forest Congo. Seating is available on the following dates and times:
Sun., April 16 (Easter Sunday):
11 a.m. – 12:30 p.m. (Sold Out)
1:30 – 3 p.m. (Sold Out)
Sun., May 14 (Mother's Day):
11:30 a.m. – 1 p.m. (Sold Out)
2 – 3:30 p.m.. (Sold Out)
Brunch admission is $39.53 for adults and $18.13 for children ages 5 – 12. Children ages four and under enter for free, and members receive a 10-percent discount. Cancellations must be made before the Monday prior to the brunch in order to receive a refund. Parties larger than eight guests can be booked under one reservation, but will be seated at more than one table. Only one credit card per party will be accepted for payment.
To reserve or learn more, please call 412/651-5281.
Photos © Adam Milliron
More Events You'll Enjoy
Fri., May 5; 6 p.m.

Eat, drink and bid on unique plants and accessories at our 33rd annual auction to benefit Phipps education programs.

Saturdays and Sundays; 1:30 p.m. except where noted

Grow your garden know-how by attending a free-with-admission class. From birds and bees to shrubs and trees, local experts bring it all to you surrounded by the beauty of our gardens.

Wed., April 5; 9 a.m. – 5 p.m. (Opening Reception Tues., April 4; 5 – 7 p.m.)

To build a shared interdisciplinary vision of "health," this symposium will bring professionals, educators and students together to explore environmental issues and their effects on human and animal health.