Thurs., April 6; 6 p.m. (Doors open at 5:30 p.m. for refreshments and networking)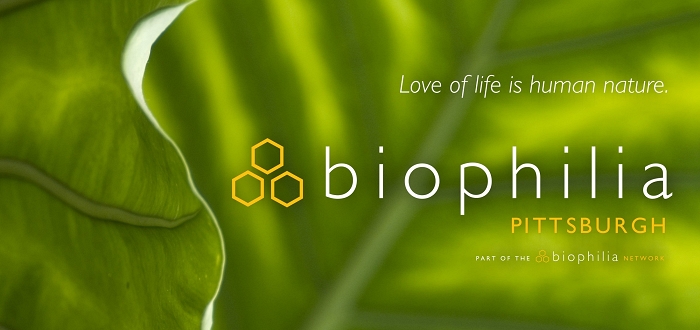 Join Pittsburgh's new network of creative minds working together to strengthen the bond between people and the natural world.
Biophilia: Pittsburgh April Meeting: Pittsburgh's Urban Forest
The Thurs., April 6 Biophilia: Pittsburgh meeting will feature Tree Pittsburgh Executive Director Danielle Crumrine, who will lead the discussion, "Pittsburgh's Urban Forest." Her presentation will summarize the state of urban forest space in Pittsburgh, share the latest research about the benefits that trees bring to cities, and discuss what Tree Pittsburgh is doing to address tree and forest issues in the region.

For over fifteen years, Danielle has worked in various capacities in the Pittsburgh environmental community. For ten years, she has served as executive director of Tree Pittsburgh, where she has led the organization through significant growth, including their current effort to transform a former steel mill site into Tree Pittsburgh's headquarters, including a tree nursery, education center and office building. Prior to joining Tree Pittsburgh, she was the founding board president and executive director of Allegheny CleanWays, a group dedicated to empowering people to fight illegal dumping and littering in Allegheny County. Danielle was named a top 40 under 40 environmental leader across the state of Pennsylvania by the PA Environmental Council. In 2015, as president of the Alliance for Community Trees, the only national organization solely focused on the needs of those engaged in urban forestry, she led the organization's merger with the Arbor Day Foundation, where she now sits on the Board of Trustees.
Meeting Schedule
5:30 – 6 p.m. Networking and refreshments
6 – 6:30 p.m. Presentation
6:30 – 7:30 p.m. Discussion
Meetings are free to attend; however, advance registration is required. To R.S.V.P., please send us an email or sign up on our Meetup page.

About Biophilia: Pittsburgh
Biophilia: Pittsburgh is the pilot chapter for a Biophilia Network dedicated to strengthening the bond between people and the natural world through education, discussion and action. The group will meet monthly at the Center for Sustainable Landscapes classroom at Phipps Conservatory and Botanical Gardens where, over delicious small-plates and light refreshments, a discipline or behavior will be identified — often by an expert guest speaker — and discussed among the participants in the interest of sharing ideas and identifying opportunities.
Directions and Parking
Meetings take place in the Center for Sustainable Landscapes (CSL), specifically in the classroom on the first floor. Please note that Phipps' main Conservatory entrance will be closed, as these events are held after normal business hours. To access the CSL, follow Frew Street (located between the Oakland/Schenley Park Bridge and the Christopher Columbus statue), which will take you to the lower campus. Guest parking spaces are available on your left as you approach the CSL.

Our Goals
• To welcome and inspire others with the concept and principles of biophilia
• To foster collaboration and learning between professionals from a wide variety of disciplines
• To communicate biophilic principles in action-oriented ways to a wider audience for exponential and regional impact

What Is Biophilia?
The term "biophilia," which literally means "love of life," was coined by social psychologist Erich Fromm and popularized by biologist E.O. Wilson, who defined it as "the innately emotional affiliation of human beings to other living organisms." The implications of biophilia extend across a vast array of disciplines including design and engineering, nutrition, psychology, public health, education, biology and the humanities. Biophilia is expressed all over the world every day through complex collaborations such as the design and construction of buildings and landscapes, and intimate, personal encounters, including nature hikes and home gardening.
Photos © Paul g. Wiegman
More Events You'll Enjoy
Thurs., May 4; 6:30 – 10 p.m.

Join us for an unforgettable garden party to celebrate SUPER. NATURAL. Glass Art by Jason Gamrath, a spectacular new glass show in the tradition of Dale Chihuly and Hans Godo Fräbel.

Fridays, April 7 and May 5; 7 – 11 p.m. (Ages 21+)

Make our paradise your own as you indulge in sweet and savory morsels, taste unique cocktails, and dance to the beats of a live DJ in our Tropical Forest Conservatory. Entry is free with Conservatory admission.

Sundays, April 16 (Easter Sunday) and May 14 (Mother's Day)

THIS EVENT IS NOW SOLD OUT. On two very special days, join us to indulge in some of the freshest local, sustainable and seasonal flavors in the 'Burgh. Seating is limited, so R.S.V.P. today; Conservatory admission is included in the price! NOTE: MOTHER'S DAY IS NOW SOLD OUT.