May Market and National Public Gardens Day
May 12 – 13; Friday, 9:30 a.m. – 7 p.m.; Saturday, 9:30 a.m. – 5 p.m.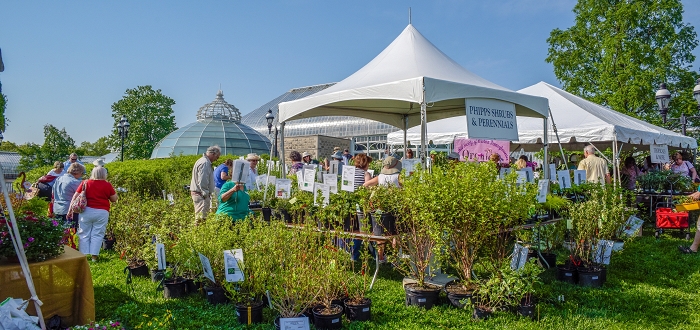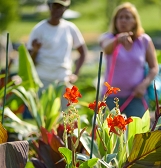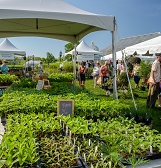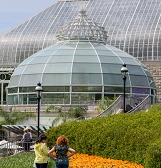 Stock up on unique plants, gardening accessories, handmade jewelry, lawn decor and more at Phipps' 81st annual May Market.
Celebrate spring at our perennially popular May Market, a bustling marketplace where Phipps horticulturists, local garden clubs, nurseries, farms and other vendors come together for a plant sale of ultra-green proportions. May Market is free and open to the public, and on Fri., May 12, National Public Gardens Day, Conservatory admission is 50-percent off during May Market hours. It's the perfect Mother's Day weekend outing!
Organic herbs and vegetable seedlings, tropical plants and succulents, low-maintenance perennials and shrubs on Phipps' Top 10 Sustainable Plants lists, native and rain garden plants, and many other seasonal favorites are among the offerings green thumbs can expect to find at May Market. Also available for sale will be everything from organic soil and landscaping materials to botanical art and natural body care products. As always, Phipps staff and Master Gardeners will be on hand to share advice, and delicious hand-dipped fondant strawberries — a traditional offering — will be served.
2017 vendor list:
Always Summer Herbs
Atelier Glass Studio
Bartsch Gardens
Brenckle's Farm
Brown Stone Studio/Michelle Hoff Mosaics
Building New Hope
Café Phipps
Champion Windows & Sunrooms
Charmed by Nature/Whimsical Wonders
Cherish Creamery
Cherry Valley Organics
Coulson's Slate Accents
CrackPot Studio
Cutco Cutlery
Designs 2 C
Designs by Sam
Designs by Stephanie
Diana Kauffman Designs
Djoi Designs
DJ's Crystal Garden
East End Trading Company
Edible Earth Farm LLC
Friendship Farms
Garden Dreams
greenSinner
Greg's Antiques & Garden Iron
Grow Pittsburgh
Gutter Helmet
JoAnn Leardi Portnoy Watercolors
Karchesky Canna + Brugmansia
KeyStone Basement Systems
Lamb's Ear Farm
Linden Garden Club
Mulberry Creek Herb Farm
Name Me Company
Our Children Our Earth
Organic Mechanics
Pam Werner
Paradox Design Werx
Pastamore
Penn Hills Lawn and Garden
Pittsburgh Iris and Daylily Society
Pure Energy Plants
Renewal by Andersen
Rockledge Garden Club
Sam's Jewelry Shop
Sand Hill Berries
Seeders and Weeders
Shadyside Nursery
Stem
Sylvania Natives
The Pretty 1
Tree Pittsburgh
Una Biologicals
Vessel Studios
Who Cooks for You
Wigle Whiskey Distillery
Wolf's Den Pottery
Please note that some vendors accept cash only.
Photos © Paul g. Wiegman
More Events You'll Enjoy
Saturdays and Sundays; 1:30 p.m.

Grow your garden know-how by attending a free-with-admission class. From bouquets to birds and gardens to vermicomposting, local experts bring it all to you surrounded by the beauty of our gardens.

Thurs., May 11; 5:30 – 7:30 p.m.

At this bimonthly event series, guest speakers share the latest recommendations for how to build healthy environments for children as a free service to educators, healthcare professionals, parents and caregivers and anyone who has a passion for the wellbeing of our children.

Friday, May 5; 7 – 11 p.m. (Ages 21+)

Make our paradise your own as you indulge in sweet and savory morsels, taste unique cocktails, and dance to the beats of a live DJ in our Tropical Forest Conservatory. Entry is free with Conservatory admission.