Fridays, April 7 and May 5; 7 – 11 p.m. (Ages 21+)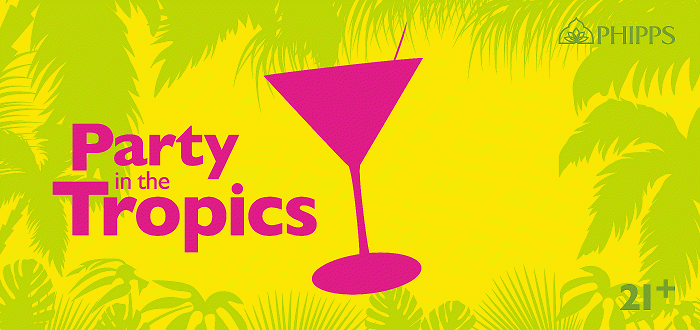 Dine, drink and dance the night away in our tropical paradise.
Gather your friends and head to Phipps Conservatory and Botanical Gardens for a healthy dose of revelry and rejuvenation as our Tropical Forest Conservatory transforms into one of the city's most unique nightspots. At this reoccurring party, you can make our paradise your own as you indulge in sweet and savory morsels, taste unique cocktails and seasonal beer selections, dance to the beats of a live DJ, and unwind amidst lush greenery and rushing waterfalls. You won't find a venue like this anywhere else in the 'Burgh!
Upcoming Dates:
March 3 | This month's St.-Patrick's-Day-themed event will feature a grown-up pot-a-plant station and a specialty drink called "Luck of the Irish."
April 7
May 5

Entry to these special events is free with Phipps admission, but space is limited: if the event space fills to capacity, admission may be temporarily closed until more space becomes available. A variety of appetizers and drinks will be offered for purchase throughout the night. Open only to guests 21 or older with a valid ID (passport or driver's license). Limited free parking is available in the center island on Schenley Drive and in the metered spaces along the street after 6 p.m.
Photos © Paul g. Wiegman
More Events You'll Enjoy
Opens Sat., May 6

Following in the footsteps of blockbuster Phipps glass exhibits by Dale Chihuly and Hans Godo Fräbel, Jason Gamrath brings a new twist to the art form, creating remarkably accurate botanical pieces on a massive scale, standing from six to 14 feet tall.

Wed., May 10; 6:30 – 9 p.m.

Phipps members: Join us for a free, private viewing of SUPER. NATURAL. Glass Art by Jason Gamrath as a special thank you for your dedicated support throughout the year.

Sundays, April 16 (Easter Sunday) and May 14 (Mother's Day)

THIS EVENT IS NOW SOLD OUT. On two very special days, join us to indulge in some of the freshest local, sustainable and seasonal flavors in the 'Burgh. Seating is limited, so R.S.V.P. today; Conservatory admission is included in the price! NOTE: MOTHER'S DAY IS NOW SOLD OUT.