Saturdays and Sundays; 1:30 p.m.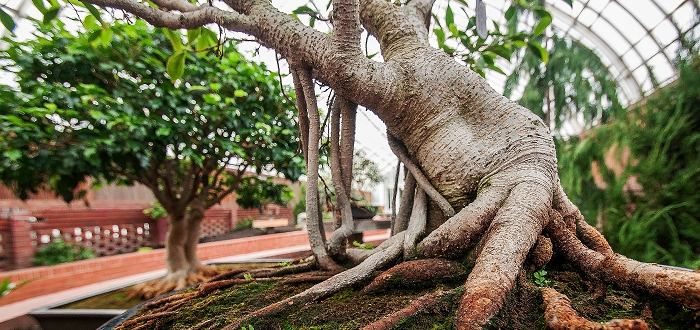 Grow your garden know-how by attending a free-with-admission class.
Join us every Saturday and Sunday at 1:30 p.m. in the Tropical Forest Conservatory (except as noted below) for demonstrations on a wide variety of topics, free with admission! From orchid and bonsai care to origami, local experts bring it all to you surrounded by the beauty of our gardens.
Healthy Eating for Kids | Let's Move Pittsburgh
Sat., Feb. 4 | 11 a.m. – 1 p.m.
Get smart eating and activity tips.
Orchids | Dave Miller
Sat., Feb. 4
Celebrate your orchid's first birthday!
Origami | Origami Club of Pittsburgh
Sun., Feb. 5 | 12:30 – 2:30 p.m.
Make origami flowers.
Bonsai | Kevin Haughey
Sat., Feb. 11
Receive expert advice on training bonsai.
Early Spring Floral Design | Lorrie Easudes
Sun., Feb. 12
Arrange a floral design using early bloomers.
Tropical Forest Congo Festival | Sat., Feb. 18 | 11 a.m. – 4 p.m.
Celebrate our tropical forest exhibit.
Orchid Repotting 101 | Tim Choltco
Sun., Feb. 19
Learn the basics of repotting orchids.
Advanced Orchid Growing | Demetria Marsh
Sat., Feb. 25
Build your orchid collection.
African Foods | Ola Appetit Catering
Sun., Feb. 26
Learn how African food has been translated in the Americas.
Photos © Paul g. Wiegman
More Events You'll Enjoy
Saturdays, April 1, 15 and 29; 9:30 – 11:30 a.m.

Take a piece of Spring Flower Show home with you by participating in one of our annual sales. Come early for the best selection!

Wed., April 5; 8:30 a.m. – 5 p.m. (Opening Reception Tues., April 4; 5 – 9 p.m.)

To build a shared interdisciplinary vision of "health," a new symposium at Phipps will bring professionals, educators and students together to explore environmental issues and their effects on human and animal health.

Now Through Sun., April 16

Explore the captivating beauty of vibrant spring blooms as forest animals awake from hibernation to welcome the season.